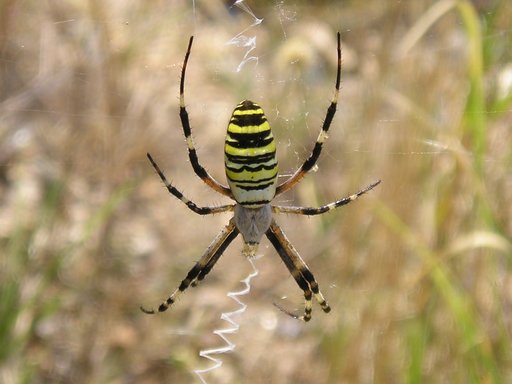 Argiope bruennichi © Pandion Wild Tours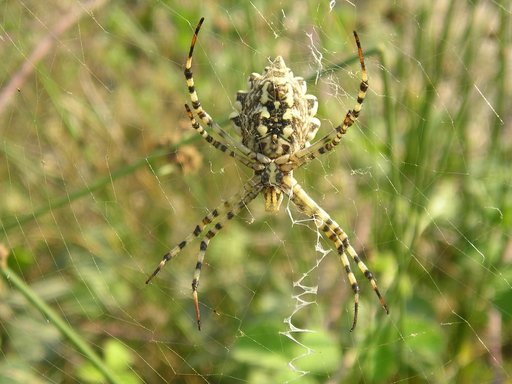 Argiope lobata © Pandion Wild Tours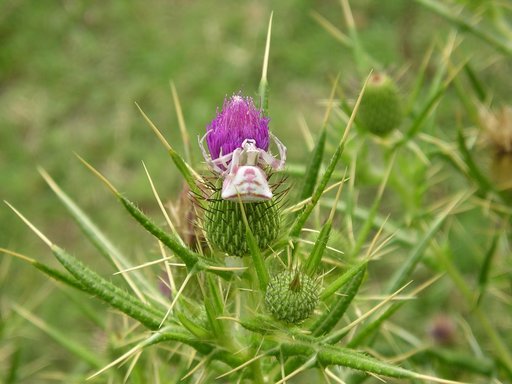 Thomisus onuctus © Pandion Wild Tours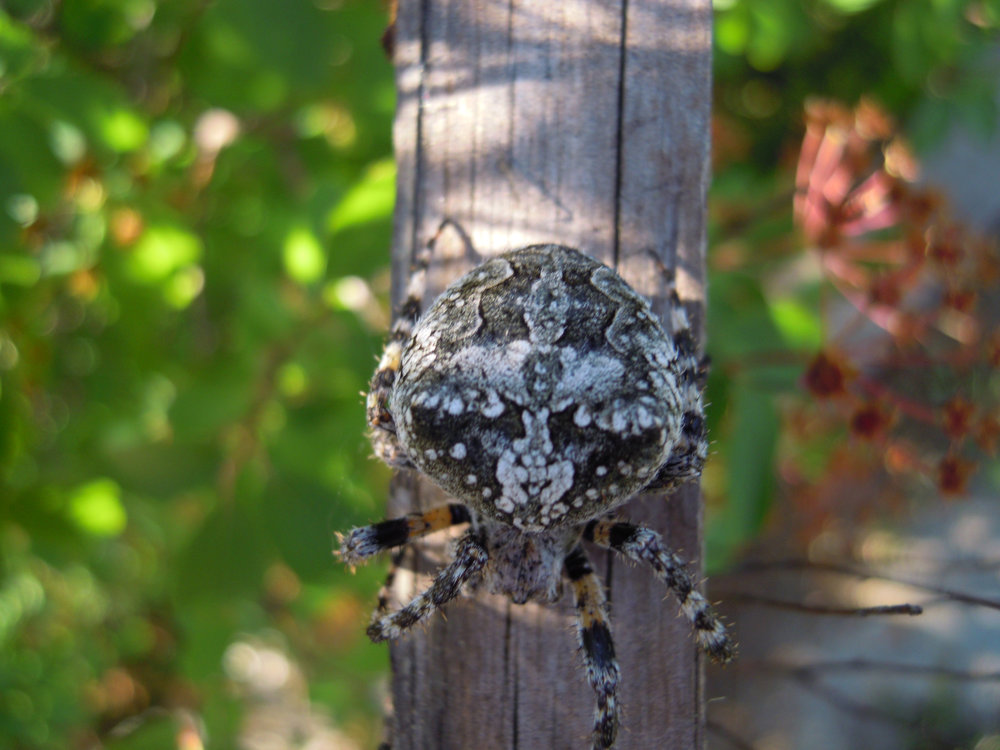 Araneus circe © Pandion Wild Tours
9 days

03 June 2023 - 11 June 2023
Day 1
Arriving in Bulgarian capital city of Sofia. Accommodation in a hotel located at the foot of Nature Park Vitosha Mountain for 2 nights.
Day 2
A visit to Vitosha Mountain. The first stop will be at the area of the Park called 'Zlatnite Mostove' (The Golden Bridges). There we will watch spiders of the group Orb-web Builders (Araneoidea) who weave their webs among the boulders of the 'stone river'. The second stop is at the mountain chalet 'Koumata' and after that we will climb up to the area called 'Koniarnika' , where we will observe Wolf Spiders (fam. Lycosidae). Among the high-mountain species of Wolf Spiders we can observe the Bulgarian endemic known as Drensky's Pardosa (Pardosa drenskii). Observation of Money Spiders (fam. Linyphiidae) on junipers and young pine trees. We may possibly watch Comb-footed Spiders (fam. Theridiidae), also inhabitants of the junipers.
Day 3
A transfer to South Bulgaria follows. First stop on our way is the Rila Monastery and a site called Kirilova Glade. The monastery is under UNESCO's aegis as a Monument of the World Cultural and Natural Heritage. It is located at the foot of the National Park Rila Mountain. We expect to see spiders that build funnel-shaped webs, from where their common name has derived: the Funnel-web Spiders (fam. Agelenidae). From that site, Bulgarian endemic species Inermocoelotes xinpingwangi has been collected and described. We may also observe Orb-web- and Crab Spiders as well as some other species. After the lunch that we will have in a local restaurant, we'll set off for another national park, namely Pirin Mountain We will visit the surroundings of the village Dobarsko. We expect to find and see Wolf Spiders, Crab Spiders and other species. We may also visit the old church there. In the late afternoon, following a short transfer to the town of Bansko. Accommodation for two nights at a local hotel.
Day 4
Today, ahead of us is a climbing up (by our minibus ) to 1900 m asl. We will reach the mountain chalet " Vihren' and there we'll make a not very hard walk around, at an altitude of about 2000 m asl. There we will observe high-mountain spiders, Wolf Spiders, glacial relics, Money Spiders and species that live under stones on the banks of the mountain lakes Okoto (the Eye) and Ribnoto (the Fish abounding). We may also observe spiders, which build their little 'houses' of sand grains and spent the larger part of their life cycle in them. This is the Balkan endemic species Zodarion pirini. Among the roots of the large trees, spiders of the genus Tegenaria - and among them the Pirin Mountain endemic Tegenaria altimontana – make their funnel-shaped webs.
Day 5
Today, a transfer to the southern parts of Pirin Mountain lies ahead of us. We will visit the Kresna Gorge where we may see Six-eyed Spiders, Wolf Spiders, Crab Spiders, Jumping Spiders (fam. Salticidae) and other species. We may possibly come across the Ladybird Spider (Eresus sp.) and the Nursery-web Spider (Pisaura mirabilis). The second stop will be at Kamenitsa village where we will observe spiders in Kermes Oak (Quercus coccifera) woods called also 'pseudo-maquis'. In the late afternoon, we'll put up at a local hotel in the town-museum of Melnik for 2 nights.
Day 6
Today, we will make observations in the immediate vicinity of the small town of Melnik and in the surroundings of Rozhen Monastery, a historical for Bulgarian people holy place. The Monastery is related to the revolutionary struggle of the local Bulgarians against the Turkish enslavers. We may find and observe attractive species like the orb-weaver species of the following genera: Aranea, Argiope, Cyclosa, Singa and some others. After lunch we will visit the site of the extinct volcano Kozhukh, inhabited also by some interesting species. Hopefully, we will see the Four-spotted Uroctea (Uroctea durandi) and the Big Wolf Spider (Lycosa praegrandis), a species that makes its lair by digging vertical holes in earth up to 20-cm deep.
Day 7
Today, a trip to the neighbouring Rodopi Mountains lies ahead of us. We will climb by the van to an altitude of about 2000 m asl, to the hilly area called Popovi livadi (Priest's meadows) to watch mountain spiders. Follows a transfer to the Trigrad Gorge where we will observe spiders who weave their web, on the rocks and we will also visit the cave 'Diavolskoto Garlo' (the Devil's Throat) to observe Cavernicolous Spiders. The Trigrad Gorge is an extremely beautiful and impressive natural landmark. Strange trees of a local subspecies of Black Pine (Pinus nigra) grow right out of the rocks where there is no soil for their roots. All the time while we are there, we cannot help but stand in awe before the nature's grandeur. Unfortunately, this is only a poor and sketchy description of this extraordinary place with its caverns and the rumble of its waterfalls. One can hardly imagine the gorge beauty if one does not see it with one's own eyes. This exceptionally beautiful area is at an altitude of 1200 m above sea level. We will put up for dinner and sleep in a family hotel in the very hamlet of Trigrad
Day 8
After breakfast, we leave this marvelous corner of the holy Rodopi Mountains and set off for Sofia. However, on our way to the capital city we will stop and visit another, not less fine and impressive landmark of the Mountains – the rock complex called Choudnite Mostove (the Wondrous Bridges). In this part of the mountains, we will conduct the last observations of high-mountain spiders for this tour. In the late afternoon we arrive in Sofia and accommodate for the last sleep in local hotel. A parting dinner follows and our tour ends up.
Day 9
After breakfast we travel to Sofia , where our tour ends
9 days

03 June 2023 - 11 June 2023

In the world as a whole, and in Bulgaria in particular, spiders occur everywhere: in the plains, in the forests, in the mountains, caves, water bodies, and even on the snow-covered peaks of high mountains. So far, more than 1000 species from Bulgaria are known to scientists, while in the world their total number is about 40 000. Vegetation in its various forms – arboreal, grassy, bushes, etc., every kind of it, is one of the main environmental factors providing for normal living conditions of spiders. Where there is no vegetation, spiders are much less but this is not an absolute rule. There are spiders that live under stones; there are species that populate landscapes deprived of any vegetation as in deserts and in some mountains; caves and human dwellings also provide shelter for considerable number of different species of spiders. Their biology and ecology are not less strange and interesting in every aspect. Bulgaria is a land of significant species abundance, endemic species of spiders here number 95. According to their origin, these endemic species belong to two faunistic groups: Mediterranean and European.
Languages
English
Group size
5 - 15
Individual tour
2 - 4
Weather
During the period of the tour the weather is warm and steady, days are still quite long and rainfalls are far from being as frequent as in the spring. Temperatures often reach 30C .
Clothing
It's summer. Wear light clothes - T-shirts and shorts rather than long trousers, sandals, sunglasses, and those who wish bathing suits too. Hats to protect against the sun and face cream in case of burns. It is advisable to have a pair of comfortable walking shoes (for the mountainous areas) and raincoats or jackets in case of summer showers.
Walking
4-5 km per day
available
03 June 2023 - 11 June 2023
Land only price
€990.00
Single room supplement
€180.00
Deposit
€150.00
Individuals
€1,085.00
Additional price info
Payment may be made in all convertible currencies at the Euro exchange rate for the day of payment. The prices include : All the ground transport, FB – full board with packed lunches, where is necessary, accommodation in hotels and guest houses. English speaking guide, All the taxes for reserves. The prices don't include : Insurance, drinks, and all the items of personal nature
BOOK NOW