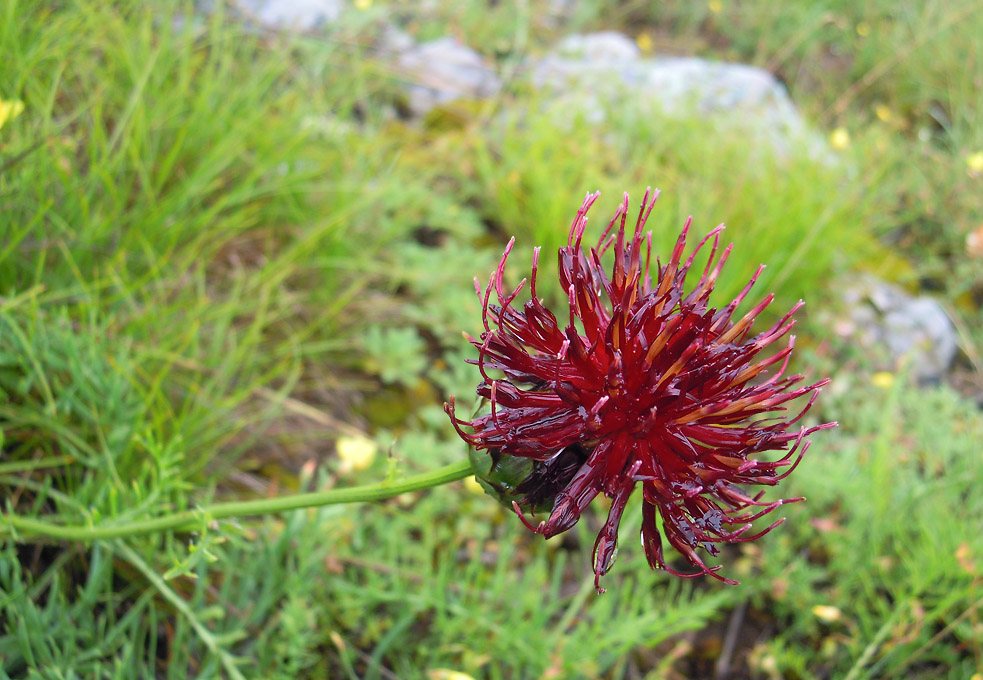 Centaurea Emanuelis Loewi © Pandion Wild Tours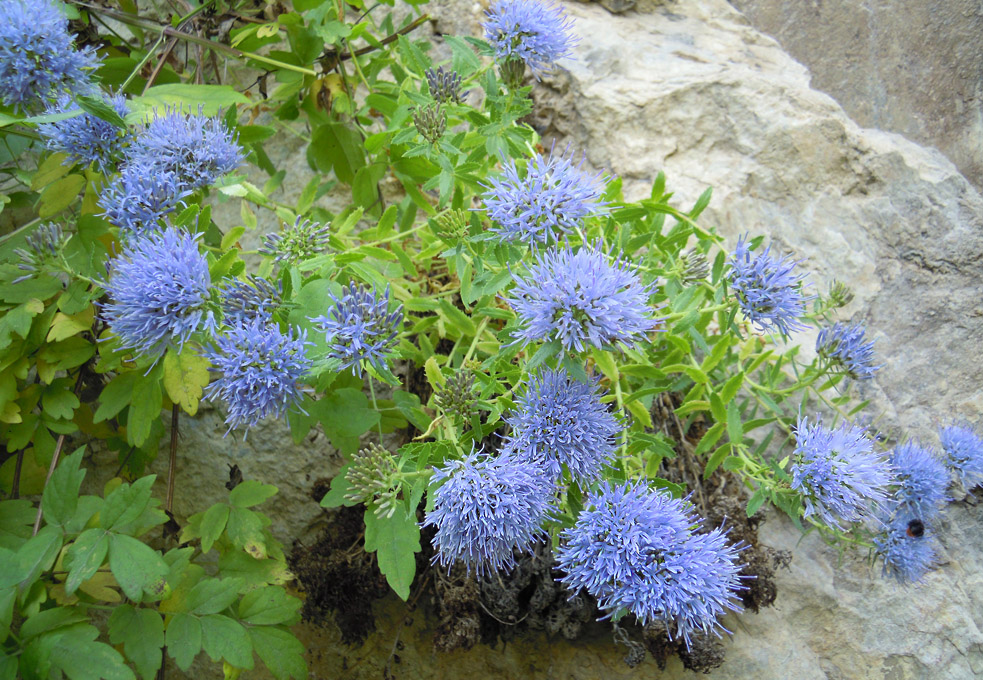 Trahelium rumelianum © Pandion Wild Tours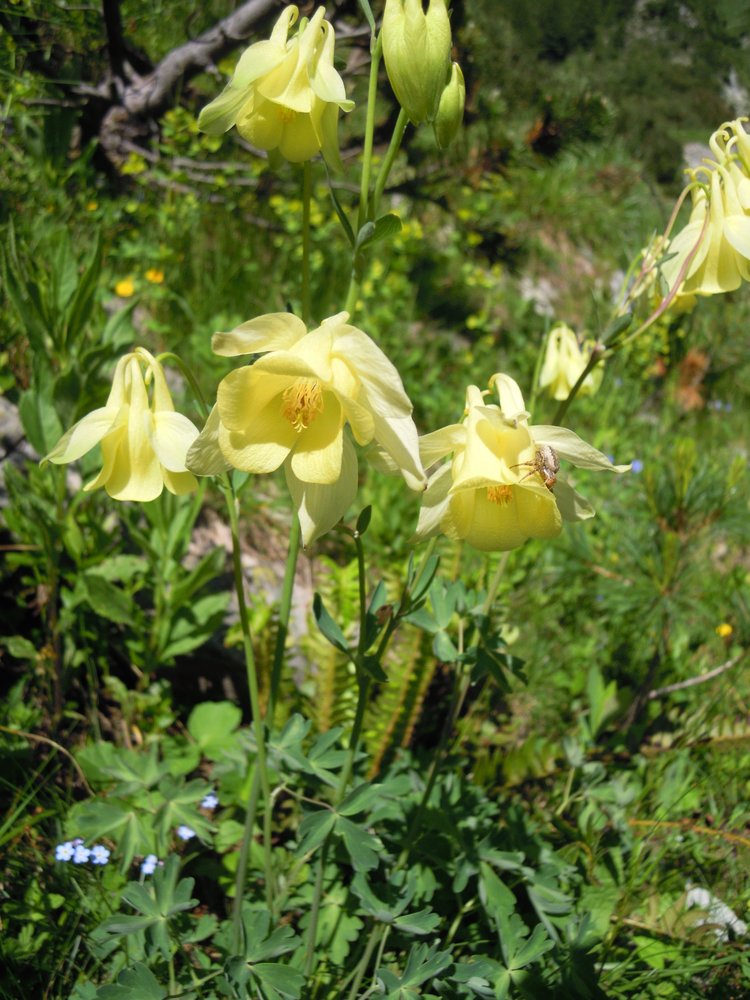 Aquilegia aurea © Pandion Wild Tours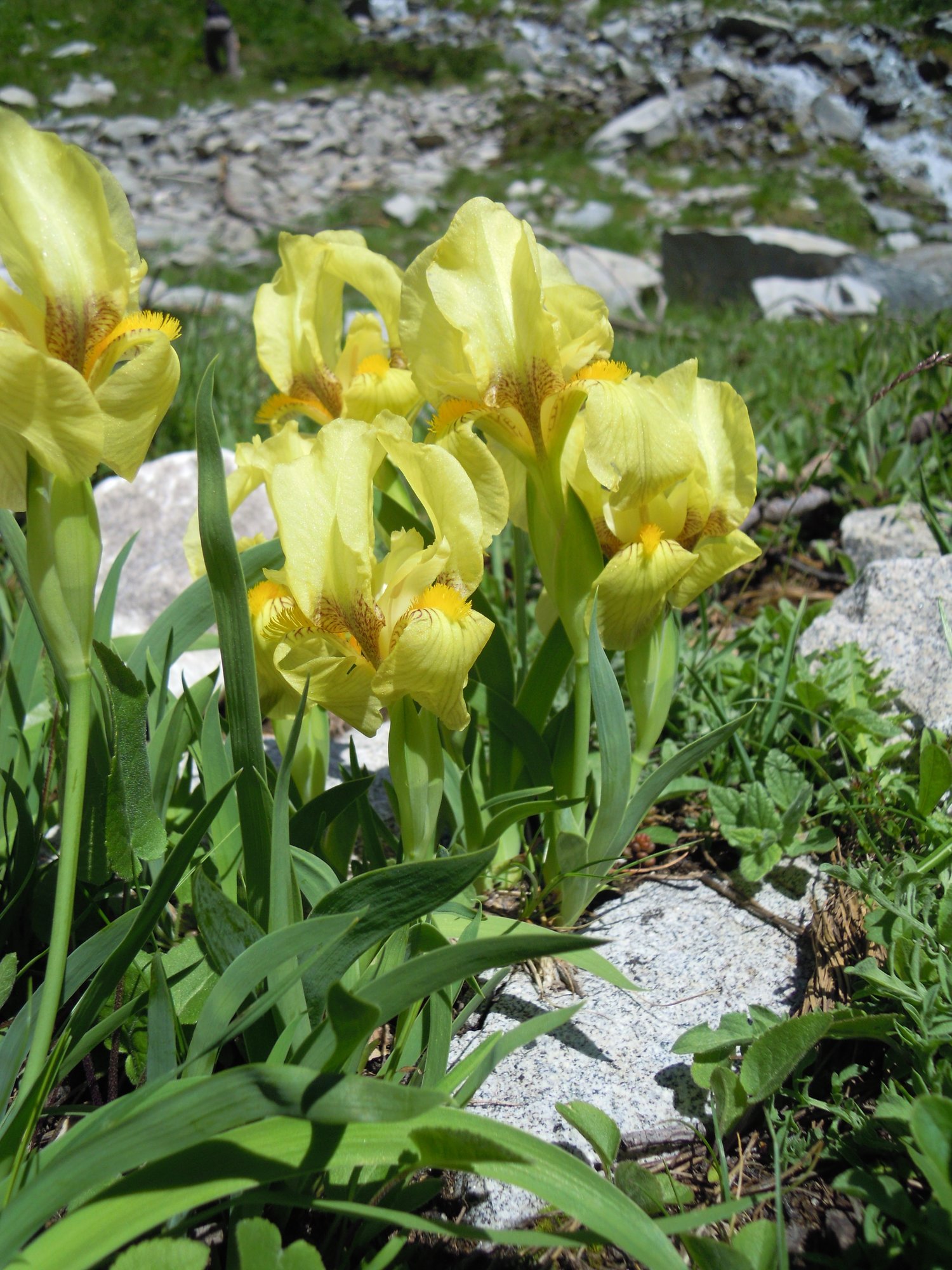 Iris reichembachii © Pandion Wild Tours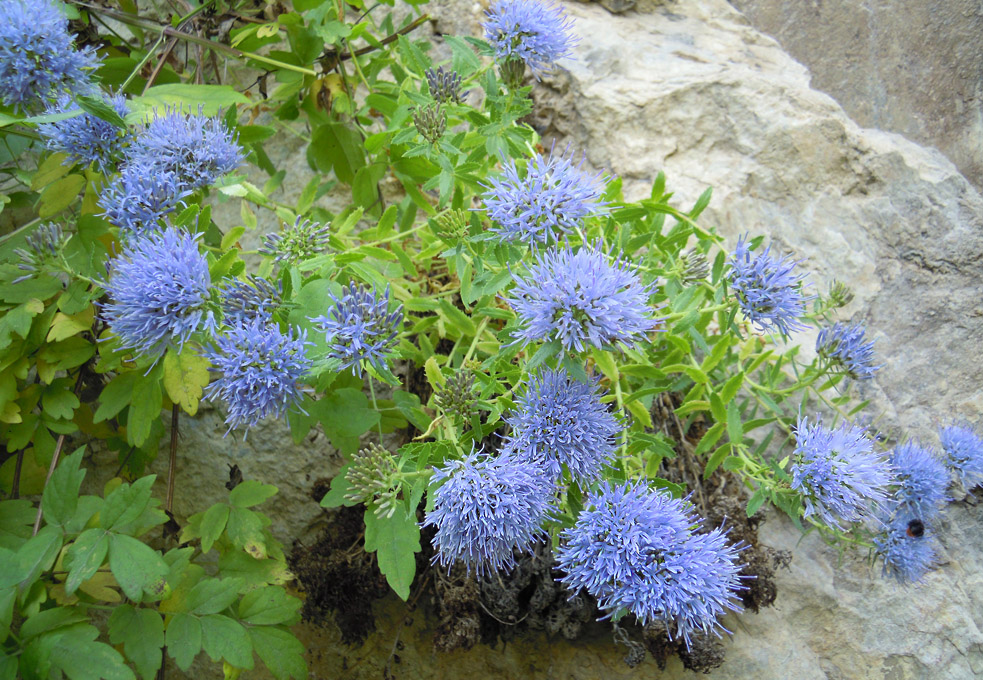 Trahelium rumelianum © Pandion Wild Tours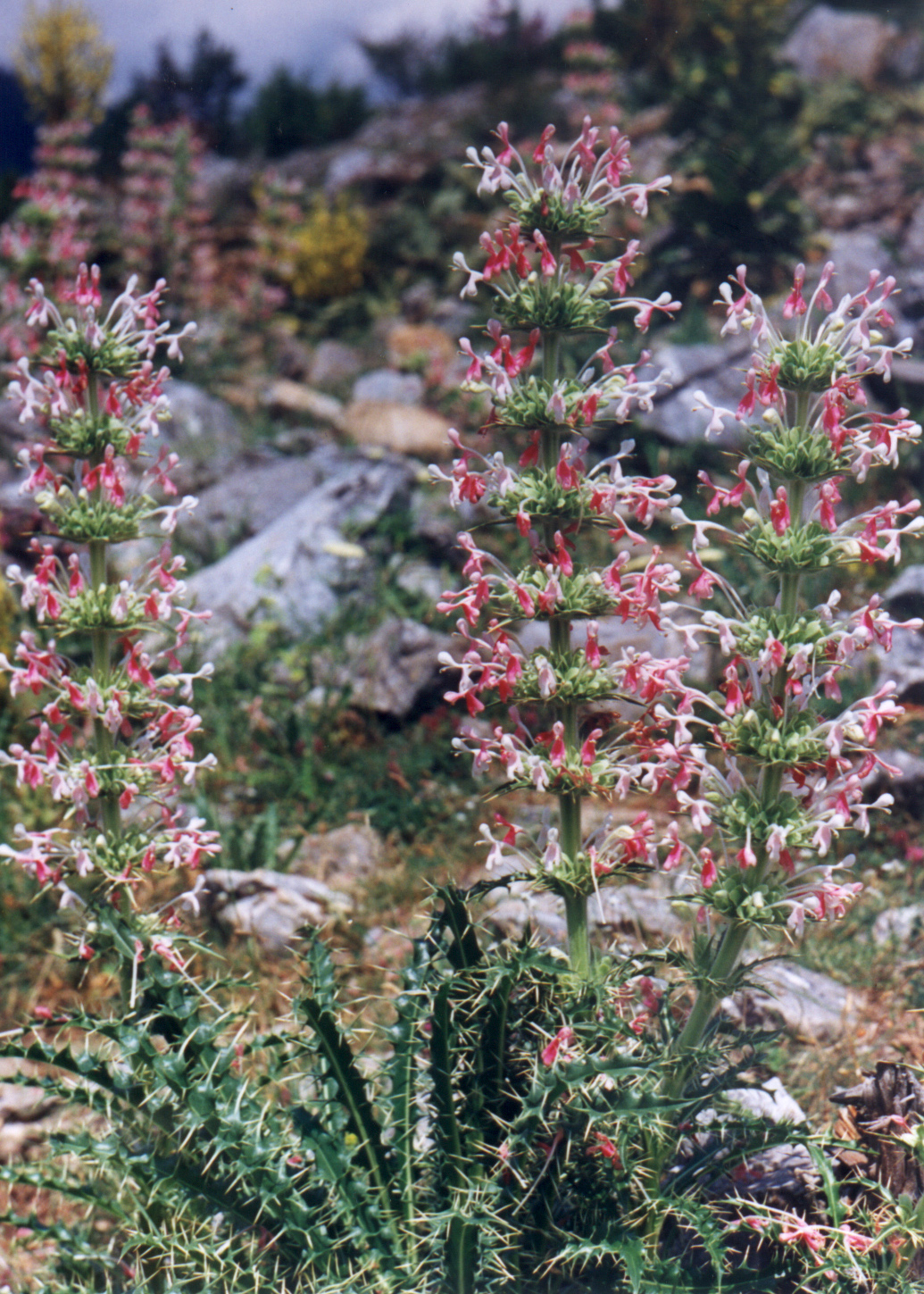 Morina persica © Pandion Wild Tours
9 days

23 June 2023 - 01 July 2023
Day 1
The tour starts in the morning, from the city of Sofia (Bulgaria's capital) with a visit to Vitosha Mountain. Only a few capitals in the world are located less than an hour ride by car or chair-lift from a mountain summit where one can find oneself amidst wild nature: with Bears, Wolves, Wild Cats, Red Deer and many other rare and interesting species of birds and plants to encounter. We will start our floristic excursion from the nature reserve of Bistrishko Branishte. This reserve comprises a very old spruce forest as well as areas above the tree line, in the sub-alpine zone of the mountain at an altitude of about 2000 m asl. The walk is a very easy and pleasant one. There are many rare and endemic plants like Lilium jankae, Narcissus-flowered Anemone (Anemone narcissiflora), Lesser Twayblade (Listera cordata), Globe Flower (Trollius europaeus), Gentianella bulgarica, Senecio pancicii, Lesser Bladderwort (Utricularia minor), Great Yellow Gentian (Gentiana lutea), Common Sundew (Drosera rotundifolia). Accommodation for 2 nights in the hotel belonging to Vitosha Hunting Range. The hotel is located at the foot of the Nature Park Vitosha and is surrounded by flowered meadows and forests.
Day 2
Today we are about to visit the nature reserve 'Golo Bardo'. The reserve is to the west of Sofia and our hotel there. The nature reserve 'Golo Bardo' consists of low-altitude limestone hills covered mainly by grassy vegetation. This countryside is rather dry but the limestone provides unique conditions, for the growth and development of a number of rare and endemic plant species like Marsh Helleborine (Epipactis palustris ) , Himantoglossum caprinum, Pyramidal Orchid (Anacamptys pyramidalis ), Satureja coerulea, Campanula bononiensis, Rhodax canus , Dorycnium herbaceum, Delphinium orientale, Astragalus onobrychis, Scrophularia canina, Anthyllis aurea, Centaurea chrysolepis, Centaurea orientalis , Centaurea immanuelis-loewii, Euphorbia barrelieri, Anthericum ramosum, Allium saxatile, Asphodeline taurica, Onosma visianii, Achillea ageratifolia, Achillea clypeolata, Potentilla cinerea, Paronychia kapela, Edrajanthus serbicus.
Day 3
After breakfast and a brief visual inspection of the meadows we set off for the National Park Rila Mountain, which lies to the south of our current location. Rila is the highest mountain (2925 m asl) in the Balkans. During the transfer we will visit the famous Rila Monastery. This monastery is under the aegis of UNESCO as a Monument of the World Cultural and Natural Heritage. We will make a short walk to an altitude of 2000 m asl where, hopefully, we will see Chamaecytisus absinthioides, Campanula trichocalycina, Green Foxglove (Digitalis viridiflora ), heart-flowered marsh-orchid (Dactylorhiza codigera ), Heldreich's Maple (Acer) and many other species. Lunch at a local restaurant and then we continue with our trip to another National Park, Pirin Mountain. Accommodation at a local hotel, located at the foot of the mountain for 3 nights. The hotel is at 1000 m altitude
Day 4
Today, we will begin our botanical observations by riding with the van to an altitude of about 1500m asl. We enter the National Park 'Pirin'. The walk is easy and pleasant up to about 1800m asl and follows the track to the mountain chalet the name of 'Vihren'. The white marble rocks dominate the landscape. The soil is poor, thin and patchy and one can see the marble bedrock underneath. We'll be expecting to see such rarities as the Balkan endemic Macedonian Pine ( Pinus peuce) . We will see there the oldest tree in Bulgaria, the 1400 years old Balkan endemic species White-bark Pine (Pinus heldreichii) along with other endemic and rare species like Verbascum davidovii, Dianthus petraeus ssp. petraeus , Iris reichenbachii, Saxifrada exarata, Starry saxifrage (Saxifraga stellaris ), Linum capitatum, Pedicularis orthantha, Daphne oleoides, Asyneuma kellerianum, White Helleborine ( Cephalanthera damasonium ) , Red Helleborine ( Cephalanthera rubra ), Veronica kellereri, Aquilegia aurea, Rhinanthus javorkae, Chamaecytisus absinthioides. The beautiful view of the neighboring peaks and ridges is everywhere with us. Night at our hotel.
Day 5
Today we will climb with the van to an altitude of about 1800m asl. We'll fetch with us the packed lunch and set off for the high-mountain lake named 'Okoto' (the Eye) which is at an altitude of 2050m asl. There we'll see Primula minima, Dianthus microlepis , Isoetes lacustris,Jovibarba heufelii, Silene lerchenfeldiana, Bartsia alpine, Gentiana punctata, Aquilegia aurea, Iris reihenbahii and many other plant species. The beautiful view of the neighboring peaks and ridges is everywhere with us. Night at the our hotel. Late in the afternoon we descend with the bus to lower altitudes where we expect to see Cephalanthera rubra, Cephalanthera damasonium, Neottia nidus-avis, Centaurea mannagetae and some other species
Day 6
Today, we will move to the Rodopi Mountains in the bosom of which the next hotel where we will be accommodated has snuggled itself. During the transfer to Rodopi Mountains we will climb up with the van to above 2000m asl and will visit the countryside area called 'Popovi Livadi' (meaning 'Priest's meadows'). During the brief walk we are going to make we expect to see Menyanthes trifoliata, Dactylorhiza maculata, Geum rhodopaeum, Petkovia orphanidea, Alchemilla glaucescens and many other species. We will also visit the high-mountain gaily-coloured meadows where we will enjoy the beautiful mountain flowers like Dianthus giganteus, Gladiolus imbricatus, Genista rumelica, Campanula scutelata, Orchis palens, Orchis coriophora, Gimnadenia conopsea, Limodorum abortivum, Dactilorhiza calopisii, Listera ovata. We will put up at hotel 'Dabrash' for 2 nights. The hotel is located at an altitude of 1250 m asl and from it a picturesque and beautiful view of the surrounding summits and valleys opens up before our eyes. Today, we will move to the Rodopi Mountains in the bosom of which the next hotel where we will be accommodated has snuggled itself. During the transfer will follow the river Mesta . At several stops along the way we hope to find Campanula lanata, Jovibarba heuffelii, Genista rumelica, Campanula scutellata, Stachys angustifolia, Dianthus pinifolius, Dianthus deltoides , Dianthus superbus, Sempervivum leucanthum, Verbascum orientale, Gladiolus imbricatus, Thalictrum lucidum, Moenchia mantica, Gymnadenia conopsea, Dactylorhiza kalopissii, Orchis ustulata, Violet Limodore (Limodorum abortivum ), Rosa caesia, Euphorbia seguierana, Centaurea stenolepis, Allium scorodoprasum, Ornithogalum sphaerocarpum. We will put up at hotel 'Dabrash' for 2 nights.
Day 7
After an early breakfast we will visit the magnificent Trigrad gorge. What impresses deeply the visitor are the huge cliffs towering above and the deep rocky valley, where the meandering river can hardly be seen. Strange trees of a local subspecies of Black Pine (Pinus nigra) grow right out of the rocks where there is hardly any soil for their roots. All the time while we are there we cannot help but stand in awe before the nature's grandeur. Unfortunately, this is only a poor and sketchy description of this extraordinary place with its caverns and the rumble of its waterfalls. One can hardly imagine the gorge beauty if one does not see it with one's own eyes. This exceptionally beautiful area is 1200 m above sea level. Species to see: Haberlea rhodopensis, Petkovia orphanidea, Sideritis scardica, Arenaria rhodopaea, Malcolmia serbica, Morina persica, Trachelium rumelianum , Scabiosa rhodopensis and many other species.
Day 8
Today, what lies ahead is to leave the beautiful Rodopi Mountains and make out our way northwards, crossing Thracian lowlands and continuing to Sredna Gora Range. During the transfer we will visit the nature reserve called 'Beglika'. Beautiful primeval pine forests, mountain meadows, and forest glades offer us a good opportunities to see Viola rhodopaea, Astragalus centralpinus, Potentila fruticosa, Scabiosa rhodopensis. While crossing the lowlands we will see many meadows dappled with beautiful flowers, fields planted with oil-bearing rose, Campanula lanata, Dianthus deltoides and many other plants. Our last night will be spent in Koprivshtitsa, a little mountainous town from the time of Bulgarian National Revival. It is indeed a little town-museum with architecture typical for the time of Revival. It is also a historical site related with the struggle of Bulgarian people against the Turkish yoke in Bulgaria.
Day 9
After breakfast a transfer to Sofia follows where the tour will end. Depending on the spare time at our disposal we can carry out last observations on mountain meadows.
9 days

23 June 2023 - 01 July 2023

Bulgaria is one of the European countries, where the greatest number of species of fern-like (Pteridophyta) and seed plants (Spermatophyta) occur: they total about 4100. Of these, 444 species are endemic: 270 are Balkan endemics, and 174 are Bulgarian endemics. The rare and threatened by extinction species listed in the National Red List are 801. A great number of wild plants of high decorative value like irises, peonies, tulips, lilies, carnations, campanulas, centauries, saxifrages, orchids occur also in the country. The richest areas in this respect are Bulgarian mountains: Rodopi Mountains (about 2500 species), Stara Planina or Balkan Range (2400 species), Pirin Mountain (about 2100 species), Rila Mountain (more than 2000 species) and Vitosha Mountain (about 1800 species). A number of new for the science species bearing the names of Bulgarian countryside areas, mountains or researchers like the Orpheus Flower (Haberlea rhodopensis), Rodopi Tulip (Tulipa rhodopea), Bulgarian Avens (Geum bulgaricum), Jurinea Tzar-Ferdinandii, Ferdinand's Saxifrage (Saxifraga ferdinandi-coburgii). The lovers of Orchids can see more than 65 species. The varied environmental conditions in the country are a prerequisite for the presence of a great number of varied habitats as well as of unique for Europe or endemic for the Balkans plant communities, for instance those of the Macedonia Pine (Pinus peuce) and the Bosnian Pine (Pinus heldreichii), the Balkan Mountain Broom (Chamaecytisus absinthioides), the Rumelian Green Weed (Genista rumelica).
Languages
English
Group size
5 - 15
Individual tour
2 - 4
Weather
During the period of the tour the weather is warm and steady, days are still quite long and rainfalls are far from being as frequent as in the spring. Temperatures often reach 30C and more.
Clothing
It's summer. Wear light clothes - T-shirts and shorts rather than long trousers, sandals, sunglasses, and those who wish bathing suits too. Hats to protect against the sun and face cream in case of burns. It is advisable to have a pair of comfortable walking shoes (for the mountainous areas) and raincoats or jackets in case of summer showers.
Walking
3-4 km per day
available
23 June 2023 - 01 July 2023
Land only price
€1,000.00
Single room supplement
€180.00
Deposit
€150.00
Individuals
€1,100.00
Additional price info
Payment may be made in all convertible currencies at the Euro exchange rate for the day of payment. The prices include : All the ground transport, FB – full board with packed lunches, where is necessary, accommodation in hotels and guest houses. English speaking guide, All the taxes for reserves. The prices don't include : Insurance, drinks, and all the items of personal nature
BOOK NOW