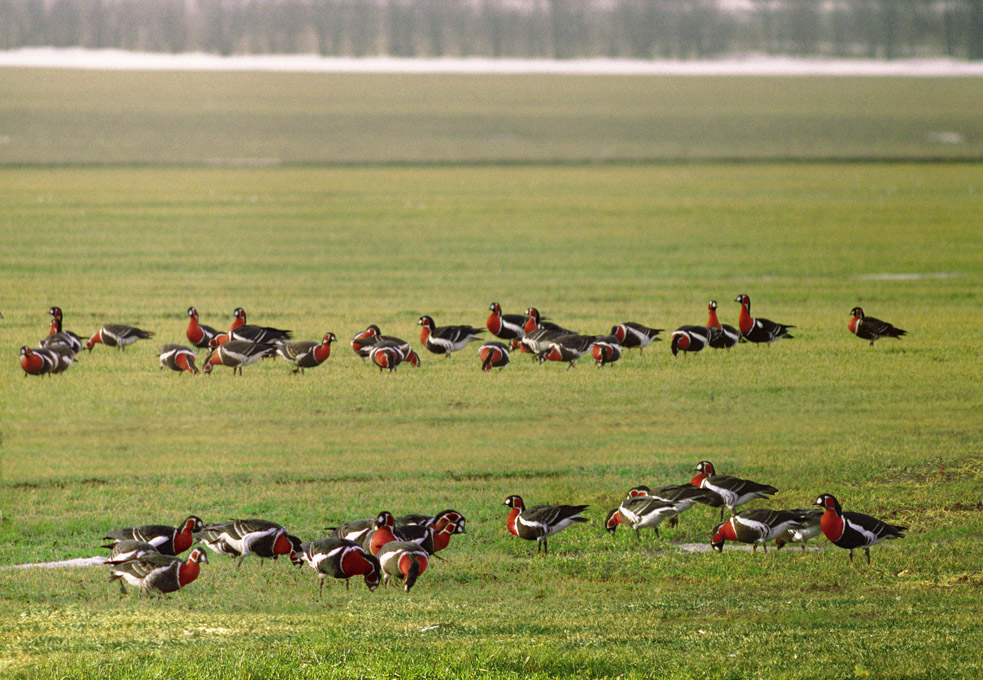 Red-breasted geese © Pandion Wild Tours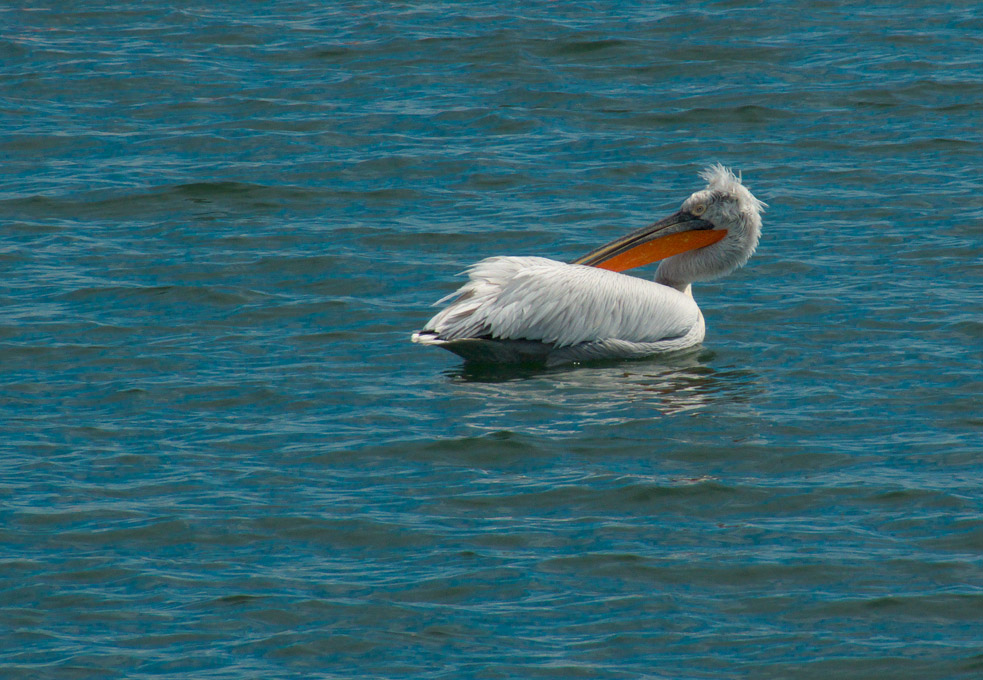 Dalmatian pelican © L. Andreev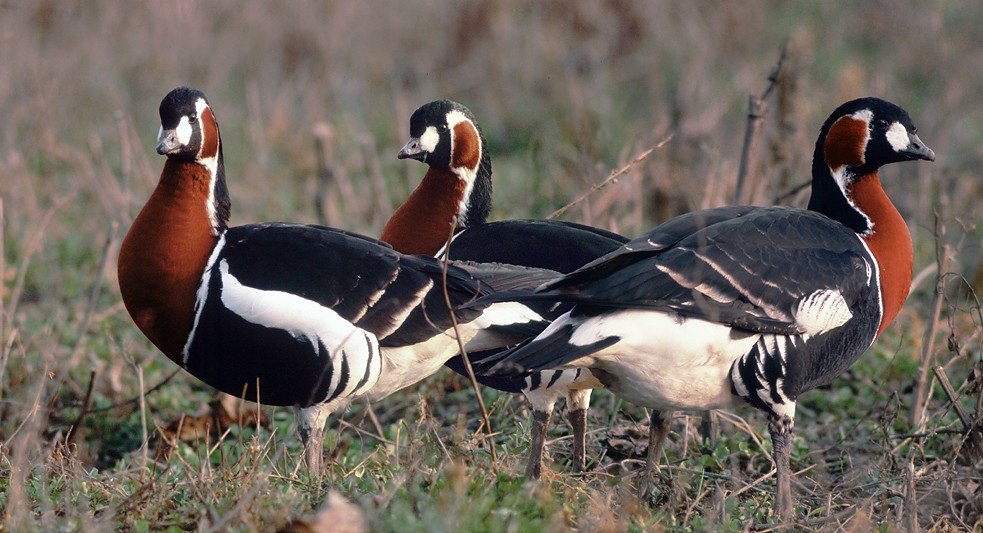 Red-breasted geese © Pandion Wild Tours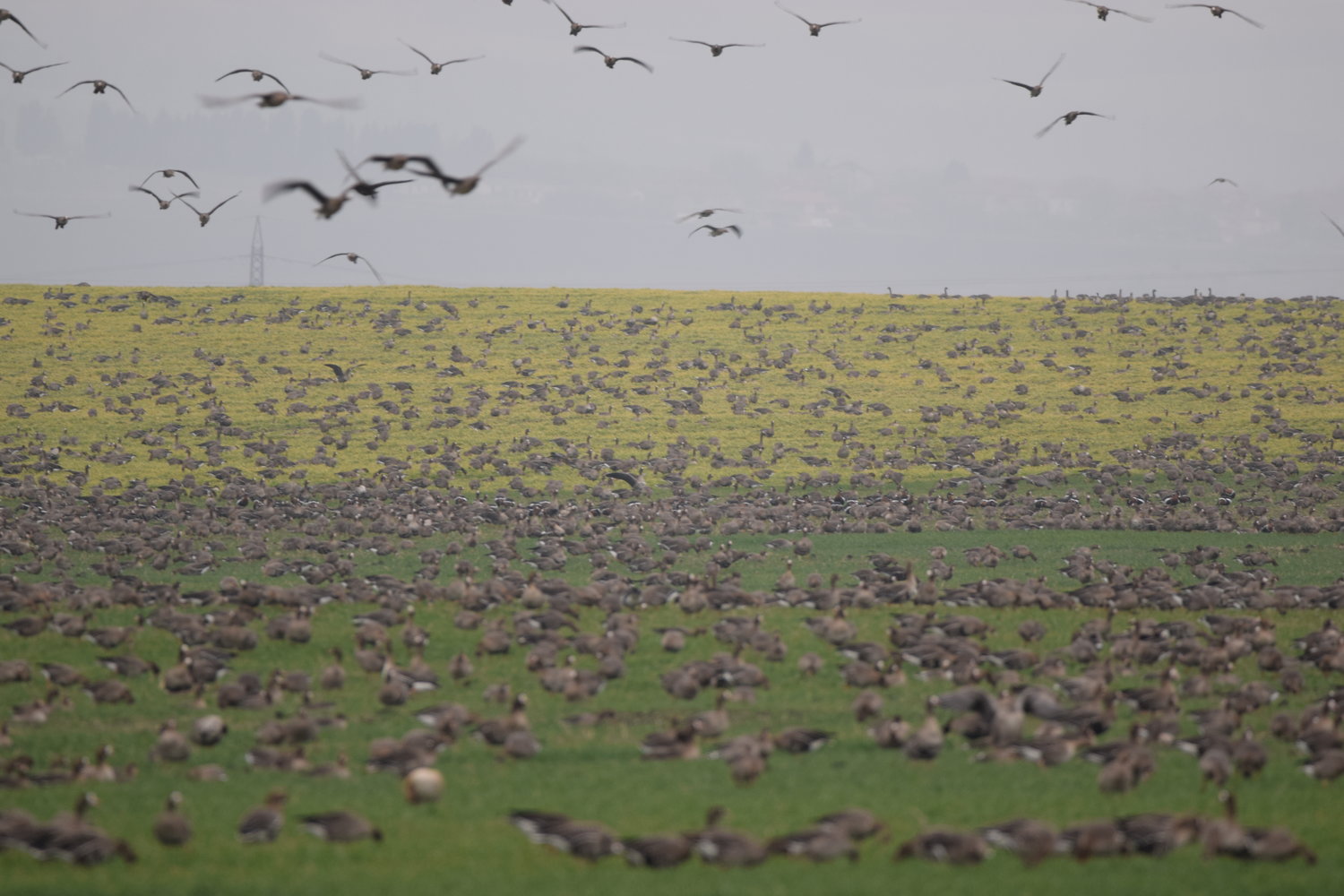 White-fronted geese © Pandion Wild Tours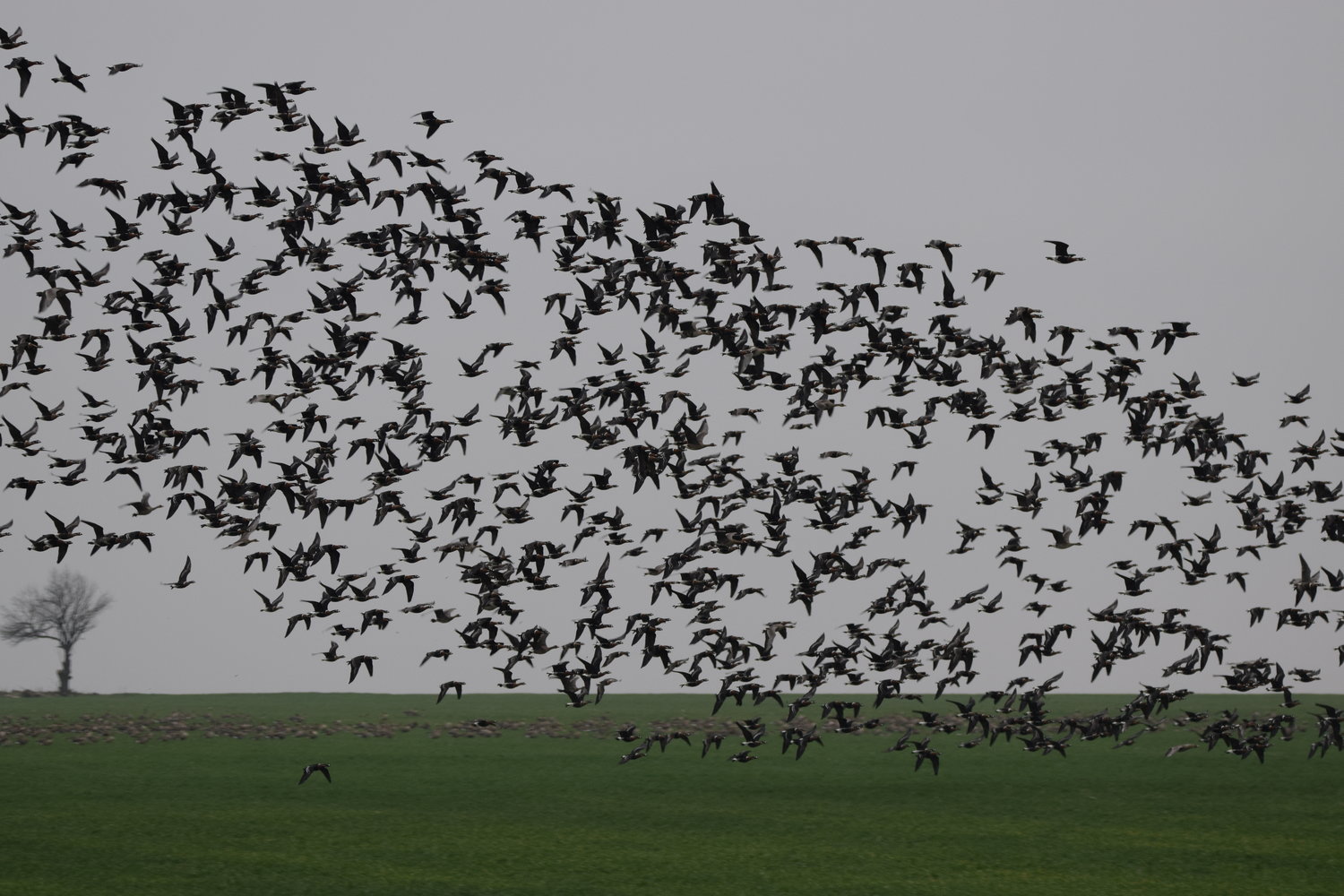 Red-breasted geese © Pandion Wild Tours
8 days

27 January 2024 - 03 February 2024
Tag 1
Landing at Varna airport and transfer of about 60 km follows to the small Black Sea town of Kavarna for the next 3 nights. During the transfer we will cross the Balkan mountain range and we will have a couple of possibilities / opportunities for observations along the road.
Tag 2
After breakfast a visit to the nature reserve of Kaliakra and Bolata Valley and Kamen Briag village. This is a genuine natural steppe for as far as the eye can see there is only grassy plain interspersed with scrub and small stunted trees. The steppe is traversed by unexpectedly deep valleys. The coast is rocky, with vertical reddish-orange cliffs falling away from over 100 m into the clear bluish green depths of the sea. Here we have the first opportunity to observe the Red-breasted geese. We also hope to see Wren, Dunnock, Short-eared Owl, White-fronted Goose, Calandra Lark, Crested Lark and other species. We will take a packed lunch for the day – if the weather permits. After lunch we will make our final visit for the day to Topola cliff – where we hope to see the Eurasian Eagle Owl. Dinner and overnight at Kavarna town family hotel.
Tag 3
A trip to Durankulak Lake and its surrounding areas. A large sandy beach separates the lake from the sea. The lake with its extensive reed-beds and open water is one of the most important wetlands for breeding and migrating birds. Here one can observe the greatest concentration in Europe of the globally threatened Red-breasted Goose (up to 53 000 individuals in 2013), and the White-fronted Goose (at times up to 250 000 individuals). Other interesting and likely sightings are also the globally threatened Lesser White-fronted Goose, Long-legged Buzzard, Rough-legged Buzzard, Calandra Lark and other species. Packed lunch for the day – if the weather permits. After lunch we will visit Shabla Lake and Tuzlata lake. These areas are also of great importance for migrating and breeding birds. The lakes are separated from the sea by a long sandbar. Dinner and last night at Kavarna town.
Tag 4
Today, what lies ahead of us is the transfer to the Southern Black-sea coast. We will cross the Stara Planina Mountains (Balkan Range), which in egress sweeps down and touches the sea. Our first short stop for the day will be at Albena forest where we can expect Grey-headed and Black Woodpecker. Next stop is for our lunch break at the local restaurant of Goritsa village. On the hillside above the road are oak forests. Interesting birds to watch there are: Great Spotted, Middle Spotted, Lesser Spotted, Green Woodpeckers and Short-toed Treecreeper. Our last stop before arrival is at Banya village where we can observe buntings, Brambling, Sombre Tit and Wood Lark. In the late afternoon we will be arriving at the town of Pomorie where we will be accommodated at a local hotel for 3 nights. The hotel is located between the local saltworks and the sea.
Tag 5
After breakfast at the hotel's restaurant , our birdwatching day will begin with a few minutes drive to the salt-works at Atanasovsko Lake. We are going to also visit the fresh-water lake of Vaya. All year round dozens of very rare and interesting species of birds can be observed here. Those of greater interest during the winter season are: Dalmatian Pelican, Pygmy Cormorant, White-headed Duck (all three are globally threatened species) Smew, Bittern and Great White Egret. Packed lunch for the day – if the weather permits. Dinner and overnight at Pomorie town.
Tag 6
After breakfast we will continue our observations in Burgas region. We will visit the protected areas of the fresh-water lake Mandra, Chengene Skele Bay and Foros Bay – which are inhabited by a number of locally and globally endangered bird species. During the day we expect to see the same species as day 6 but also; Pallas's Gull, Whooper Swan, Tundra Swan and Whitetailed Sea Eagle. Last night at Pomorie town.
Tag 7
Our day will start in the morning with a 4 hour highway transfer to Sofia. During the transfer we will make time for a few more observations along the road – where possible. We will arrive late afternoon and will be accommodated overnight in a most pleasant hotel at the foot of Vitosha Mountain National Park.
Tag 8
After an early breakfast our van will climb up to an altitude of about 2000m a.s.l. whilst In the Nature Park of Vitosha Mountain. Hopefully, there we will watch; Spotted Nutcracker, Red Crossbill, Ring Ouzel and Fire & Goldcrest, Woodpeckers. Lunch follows before later transfer to Sofia airport and departure.
8 days

27 January 2024 - 03 February 2024

The main wintering grounds for the Red-breasted Goose are located in North-Eastern Bulgaria. Part of the world population of this exceptionally beautiful bird used to find refuge from winter storms and blizzards in the land of Bulgaria for about 60 years but for the last 35 years almost the entire stock of the species spends the winters within the borders of Bulgaria. It is not so rare a sight for nature lovers and birdwatchers to see fields in winter not white from the snow cover, but reddish from the thousands of Red-breasts that have alighted on them. There is a chance to watch - in the flocks of tens of thousands of White-fronted- and Red-breasted geese - the extremely rare Lesser White-fronted Goose. During this tour we, hopefully, will see more than 100 species of other birds, among them the Dalmatian Pelican, White-headed Duck, Pygmy Cormorant, Smew and many other.
Sprachen
English
Größe der Gruppen
5 - 15
Individuelle Tour
2 - 4
Wetter
Temperatures in Bulgaria during the winter are very changeable and sometimes may vary from +15 to - 20C with clear and cold weather or snowstorms and fogs. That is why special attention must be paid to clothing.
Bekleidung
Warm winter clothes, shoes, gloves, hats, windproof jackets and trousers to avoid the wind reaching the body. Observations are always made on land so it is not necessary to wear rubber boots - but those who prefer can take a pair.
Wanderstrecken
1-2 km per day
verfügbar
27 January 2024 - 03 February 2024
PREISE OHNE FLUG
€1,200.00
ZUSCHLAG EINZELZIMMER
€150.00
ANZAHLUNG
€150.00
INDIVIDUELL
€1,360.00
ZUSÄTZLICHE PREISINFORMATION
Payment may be made in all convertible currencies at the Euro exchange rate for the day of payment. The prices include : All the ground transport, FB – full board with packed lunches, where is necessary, accommodation in hotels and guest houses. English speaking guide, All the taxes for reserves. The prices don't include : Insurance, drinks, and all the items of personal nature Der Preis von Flug-, Zug- und sonstigen Tickets zur Ankunft und Abreise aus dem Land, sowie für Alkohol und personenbezogene Erfordernisse der Touristen.
JETZT BUCHEN