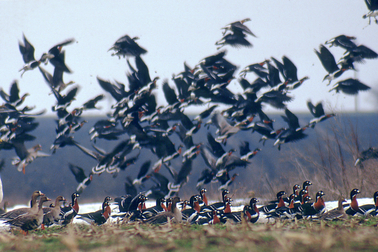 Red-breasted geese © Lubomir Hristov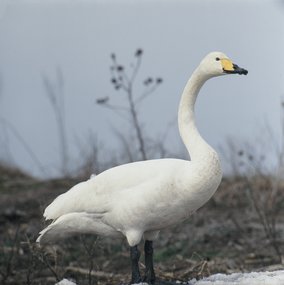 Whooper Swan © Lubomir Hristov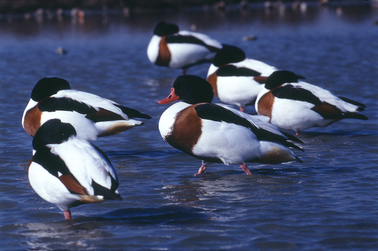 Common Shelduck © Lubomir Hristov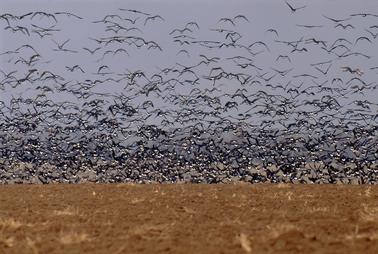 Red-breasted geese © Lubomir Hristov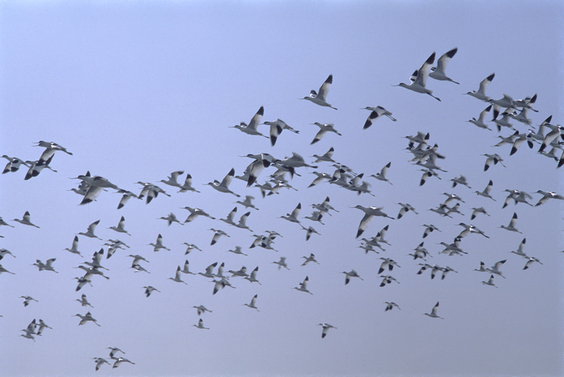 Pied Avocet © Lubomir Hristov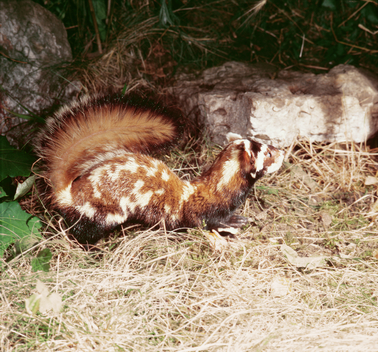 Marbled polecat © Lubomir Hristov
6 days

24 January 2024 - 29 January 2024
Tag 1
Landing at Bucharest Airport (Romania), then transfer about 150 km to the village of Vetren, municipality of Silistra town. We will cross the Romanian – Bulgarian border (Danube River) by ferry , where we can expect to see our first species for the trip and some rarities such as Pygmy Cormorant. Vetren village is located in immediate vicinity to the majestic Danube River and the worldwide-renowned managed reserve of the biosphere Srebarna Lake, which is under UNESCO's aegis as a Monument of the World Cultural and Natural Heritage. Depending on the time of our arrival we can make a short walk to the Danube River, where we expect to see: Hawfinch, Syrian Woodpecker, Mistle Thrush, Fieldfare, Redwing, Rough-legged Buzzard, Merlin. Dinner follows and accommodation at Pelican Birding Lodge for an overnight http://www.pelican-birding-lodge.com/
Tag 2
Today transfer to North-Eastern Bulgaria follows, where the main wintering grounds for the Red-breasted Goose are. During the transfer, we will make observation along the road of the Srebarna Nature Reserve, the Bulgarian village of Sratsimir (from where we can observe the Romanian fields of Bugeac Lake for our first flock of geese), and some other spots before our final destination. Accommodation at hotel 'Our Home' for 3 nights. The hotel is situated in the town of Kavarna. The scenery from the hotel is spectacular with the glittering blue sea and the nearby hills and valleys. Numerous flocks of geese can often be seen to fly or circle over the hotel. Dinner and overnight at 'Our Home' hotel
Tag 3
After breakfast a visit to the nature reserve of Kaliakra and Bolata valley and Kamen Briag village. This is a real steppe for, as far as the eye can see, there is only a grassy plain interspersed here and there with scrub and small stunted trees. The steppe is traversed by unexpectedly deep valleys. The coast is rocky, with vertical reddish-orange cliffs falling away from over 100m into the clear bluish green depths of the sea. Here we will have the first opportunity to observe the Red-breasted geese. We hope also to see Wren, Dunnock, Short-eared Owl, White-fronted Goose, Calandra Lark, Crested Lark, and other species. Packed lunch for the day, if the weather permits. After lunch we will make our final visit for the day - Topola cliff , where we hope to see the Eurasian Eagle Owl . Dinner and staying overnight at 'Our Home' hotel.
Tag 4
A trip to Durankulak Lake and its surrounding areas. A large sandy beach separates the lake from the sea. The lake with its extensive reed-beds and open water is one of the most important wetlands for breeding and migrating birds. Here one can observe the greatest concentration in Europe of the globally threatened Red-breasted Goose (up to 53 000 individuals in 2013), and the White-fronted Goose (at times up to 250 000 individuals). Other interesting and likely sightings are also the globally threatened Lesser White-fronted Goose, Long-legged Buzzard, Rough-legged Buzzard, Calandra Lark and other species. Packed lunch for the day, if the weather permits. Dinner and night at 'Our Home'hotel.
Tag 5
After breakfast, follows a trip to Shabla lake and its surroundings. This area is also of great importance for migrating and breeding birds. The lake is separated from the sea by a long sand bar. The same encounters with birds are likely to happen as on the 4th day. Packed lunch for the day, if the weather permits. After lunch time we slowly drive inland to cross Dobrudza steppes and to reach Danube river valley again for our last overnight at Pelican Birding Lodge, Vetren village. Diner and overnight.
Tag 6
After an early breakfast, transfer to Bucharest airport follows, where our tour comes to its end. During the transfer we will make few observations along the road, where possible.
6 days

24 January 2024 - 29 January 2024

The main wintering grounds for the Red-breasted Goose are located in North-Eastern Bulgaria. Part of the world population of this exceptionally beautiful bird used to find refuge from winter storms and blizzards in the land of Bulgaria for about 60 years but for the last 35 years almost the entire stock of the species spends the winters within the borders of Bulgaria. It is not so rare a sight for nature lovers and birdwatchers to see fields in winter not white from the snow cover, but reddish from the thousands of Red-breasts that have alighted on them. There is a chance to watch - in the flocks of tens of thousands of White-fronted- and Red-breasted geese - the extremely rare Lesser White-fronted Goose.During this tour we, hopefully, will see more than 70 species of other birds
Sprachen
English
Größe der Gruppen
4 - 8
Individuelle Tour
2 - 3
Wetter
Temperatures in Bulgaria during the winter are very changeable and sometimes may vary from +15 to - 20C with clear and cold weather or snowstorms and fogs. That is why special attention must be paid to clothing.
Bekleidung
Warm winter clothes, shoes, gloves, hats, windproof jackets and trousers to avoid the wind reaching the body. Observations are always made on land so it is not necessary to wear rubber boots - but those who prefer can take a pair.
Wanderstrecken
1-2 km per day
Wichtige Informationen
Main advantages: • Short traveling • High concentration of waterbirds - up to 250 000 Geese around Durankulak lake • Up to 50 – 60 000 individuals of Red-breasted Goose ( 53 000 in 2013) • All of the important observation points (Lakes) are relatively small and easily accessible in winter conditions.
verfügbar
24 January 2024 - 29 January 2024
PREISE OHNE FLUG
€650.00
ZUSCHLAG EINZELZIMMER
€50.00
ANZAHLUNG
€150.00
INDIVIDUELL
€770.00
ZUSÄTZLICHE PREISINFORMATION
The prices include : All the ground transport, FB – full board with packed lunches, where is necessary, accommodation in hotels and guest houses. English speaking guide, All the taxes for reserves. The prices don't include : Insurance, drinks, and all the items of personal nature
JETZT BUCHEN